Scott A. Muller
Director, Subnational Program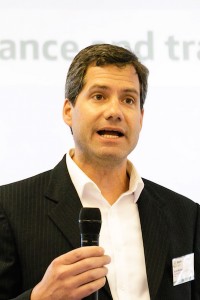 Scott A. Muller is the Director of the Subnational Program at the Greenhouse Gas Management Institute. His focus is to support the creation of climate action pathways, accelerating and scaling the domestic implementation of greenhouse gas (GHG) emission reduction goals. Building capacity for carbon management at the subnational level reduces the asymmetry of information across levels of governance and stakeholders, accelerates investments in clean energy and green infrastructure, and can improve social equity.  What's more, strengthening subnational approaches to climate action can also improve multi-level governance and intersectoral collaboration towards, not only achieving, but also raising ambitions on Nationally Determined Contributions (NDCs) and long-term low emission development strategies.
Scott is passionate about implementation. For more than 15 years, he has been working closely with municipal and national governments, local communities, indigenous groups and the private sector on urban sustainability, the valorization of ecosystem services and harnessing green growth opportunities.
From 2007-2012, Scott was the Director for the William J. Clinton Foundation's Climate Initiative (CCI) and C40 Cities Climate Leadership Group in Lima, Peru. He worked closely with the Mayor, the city council, the private sector and various development banks to achieve massive emission reductions with short ROIs and critically important co-benefits.
In addition to his extensive field work across the cities and forests of Latin America and Asia, he has been appointed as a technical expert with the UNFCCC, UNESCO, and the Secretariat of the Convention on Biological Diversity on issues of climate mitigation, urbanization, AFOLU, cultural heritage, historic urban landscapes, tourism development and the sustainable use of biodiversity. Scott has also served as a national delegate for various multilateral environmental conventions and has published many key global reports, including; collaborating as a lead author on the UN-supported Millennium Ecosystem Assessment, CBD Guidelines on biodiversity and tourism development, and a UNFCCC technical paper on options to enhance pre-2020 mitigation ambition in urban environments and land use.
Currently, Scott also serves on the steering committee of the LEDS Global Partnership, where he co-founded the global working group on Subnational Integration and Multi-level Governance and has chaired the group since 2013.
Defining and implementing low emission development strategies (LEDS) across sectors and scales is a 21st century grand challenge, especially within the context of urbanization, climate change, multi-level governance and globalization.  Facilitating data and information exchange and multi-level/inter-sectoral dialogues and collaboration creates a more factual basis for debates about preferences, builds trust and a sense of shared responsibility between parties.