Caribbean Cooperative MRV Hub
The Caribbean Cooperative MRV Hub is a project of the Greenhouse Gas Management Institute. The hub empowers English-speaking CARICOM countries to efficiently develop GHG inventories, mitigation assessments, and track NDCs.
The MRV Hub is a sustainable and country-driven partnership that enables countries to cooperate on technical challenges underlying climate change mitigation. The hub exists to foster regional technical excellence and generate stronger policy-relevant carbon accounting. Through the hub, country experts and hub staff function as a true learning and mentoring cooperative.
The hub is physically housed in Grenada on St. George's University. Implementing project partners include the GHG Management Institute, the UNFCCC Regional Collaboration Centre, and the UNDP/UN Environment Global Support Programme (GSP). The twelve hub countries are Antigua and Barbuda, Barbados, the Bahamas, Belize, Dominica, Grenada, Guyana, Jamaica, St. Kitts and Nevis, St. Lucia, St. Vincent and the Grenadines, and Trinidad and Tobago.
If you would like more information or are interested in working to build cooperative MRV, please contact us or sign up here for news and updates.
---
The Caribbean Cooperative MRV Hub (CCMRVH) is part of the International Climate Initiative (IKI). The Federal Ministry for the Environment, Nature Conservation and Nuclear Safety (BMU) supports this initiative on the basis of a decision adopted by the German Bundestag.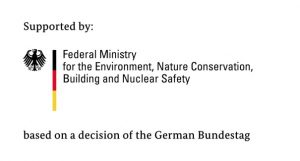 And through support from the UNDP/UNEP Global Support Programme.