John O. Niles
Director, The Carbon Institute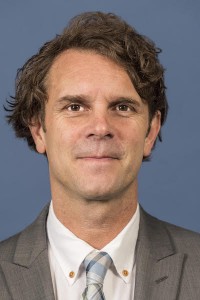 John ("John-O") Niles teaches courses on terrestrial carbon accounting and REDD+. He is Director of the Carbon Institute, a dedicated initiative of GHGMI that promotes innovative and interdisciplinary science, education and cooperation to measure and manage carbon, with a focus on supporting emerging academic carbon accounting programs worldwide.
John-O is also a Visiting Scholar and Lecturer at the University of California San Diego, where he teaches the global carbon cycle and international climate policies. In 2013, John-O designed and ran the first advanced Terrestrial Carbon Accounting certificate, accredited by the University of California San Diego Extension.
John-O started his career in the 1990s working for Pandrillus in Nigeria and Cameroon, helping conserve endangered primates and their habitats. Later, while completing graduate work at Stanford University, John-O published several scientific articles on tropical forest carbon stocks, carbon economics, mitigation potential of forest and agriculture, and land surface parameters. He also wrote and edited several books, including an early textbook on climate change science and policy with Dr. Stephen Schneider and Dr. Armin Rosencranz.
In 2003, John-O became the first director of the Climate, Community & Biodiversity Alliance (CCBA). As director of the CCBA through 2006, John-O guided this global coalition to become a respected and widely used global forest carbon standard for assuring co-benefits. As CCBA director, John-O was the lead-author of the 1st edition of the CCB Standards. Currently, more than 100 terrestrial carbon projects in dozens of countries combine the CCB Standards with independent auditing of project's carbon, community, and ecosystem impacts.
In early 2006, John-O was named the first science and technical advisor for the Coalition for Rainforest Nations (CfRN). The CfRN was the influential block of nations that marshaled support for the United Nations concept of reducing emissions from deforestation in developing countries (REDD). John-O helped coordinate the scientific strategy for more than a dozen nations during the influential years leading up to the 13th Conference of the Parties of the United Nations Framework Convention on Climate Change in Bali, Indonesia.
In 2009, John-O became director of the Tropical Forest Group (TFG). In this role, he led TFG's professional affiliates in policy work, forest measurements, greenhouse gas accounting, and development of a humanitarian carbon portfolio. TFG was a technical advisor to the Governor's Climate and Forests Task Force (GCF) and helped design a successful $1.5 million proposal (funded by the US State Department) for the Governors Climate and Forests Fund (GCF-Fund).
From 2012 to 2014, John-O was the Director for WWF US's Forest and Climate program. In this capacity he helped lead WWF US's work on REDD+, United Nations Framework Convention on Climate Change negotiations, capacity building, reference levels and multi-lateral engagement. John-O helped initiate technical work on a subnational reference level for Nepal's Terai Arc landscape, a net historical carbon accounting framework that used ground measurements, satellite data, LiDAR data, and robust accounting to model forest carbon fluxes for 12 years on 4 million hectares. This reference level was used by the Government of Nepal to help gain acceptance into the Carbon Fund at the World Bank's Forest and Carbon Partnership Facility, opening the door for Nepal to access potentially tens of millions of dollars in pay-for-performance conservation finance.
John-O is married with two children, living in San Diego California, where he spends most of his free time playing soccer and frisbee, and fixing his VW camper van.
View All Publications

Riehl, B., W. Guangyu, S. Eshpeter, H. Zhang, J. Innes, N. Li, J. Li, and J. Niles. 2017. Lessons Learned in Mandatory Carbon, Market Development.International Review of Environmental and Resource Economics (10), 227-268.

A.R. Joshi, K. Tegel, U. Manandhar, N. Aguilar-Amuchastegui, E. Dinerstein, A. Eivazi, L. Gamble, B. Gautam, K. Gunia, M. Gunia, D. Hall, J. Hämäläinen, M. Hawkes, V. Junttila, S. K. Gautam, Y. Kandel, P. Kandel, T. Kauranne, A. Kolesnikov, P. Latva-Käyrä, S. Lohani, S. M. Nepal, J. Niles, J. Peuhkurinen, G. Powell, P. Rana, T. Suihkonen, G. J. Thapa. 2014. An Accurate REDD+ Reference Level for Terai Arc Landscape, Nepal, Using LiDAR-Assisted Multi-Source Program (LAMP). Banko Janakari (Nepal Forest Information Journal), Vol. 24 #1, pp 23-33.

Diamant, A., D. Nepstad, W. Boyd, J. Niles, A. Azavedo, T. Bezzera, B. Smid, C. Stickler, R. Vidal, K. Schwalbe.  Overview of Subnational Programs to Reduce Emissions from Deforestation and Degradation in Developing Countries as Part of the Governors' Climate and Forests Task Force. Electric Power Research Institute Technical, Palo Alto, CA. 1023881, 2012.

Gibbs, H, S. Brown, J. Niles and J Foley. Monitoring and Estimating Tropical Forest Carbon Stocks: Making REDD a Reality. Environmental Research Letters (2), 2007.

Niles, J., T. Janson-Smith, C. Kelly, J. Henman, B. Stanley, L. Verchot, B. Locatelli, D. Murdiyarso, M. Dutschke, A. Michaelowa, A. Sari, O. Tanujaya, M. Totten, S. Pandya, S. Stier, C. Romero.  Climate, Community and Biodiversity Project Design Standards (First Edition). CCBA, Washington DC. On the web at: http://climate-standards.org/standards/index.html, 2005.

Marland, R. Pielke Sr., M. Apps, R. Betts, K. Davis, P. Frumhoff, P. Kauppi, J. Katzenberger, K. MacDicken, R. Neilson,J. Niles, D. Niyogi, R. Norby, N. Pena, N. Sampson & Y. Xue.  The Climatic Impacts of Land Surface Change and Carbon Management and the Implications for Climate-Change Mitigation Policy.Climate Policy (3) 149-157, 2003.

Niles, J., S. Brown, J. Pretty A. Ball & J. Fay. Potential Carbon Mitigation and Income in Developing Countries from Changes in Use and Management of Agricultural and Forest Lands. Philosophical Transactions of the Royal Society, Series A 1797: 1621-1639, 2002.

Schneider, S., A. Rosencranz & J. Niles (Eds.).  Climate Change Policy: A Survey. Island Press, Washington, D.C. 544 pp. 2002.

Niles, J. & R. Schwarze.  The Value of Careful Carbon Accounting in Wood Products. Climatic Change 49 (4): 371-376, 2001.

Schwarze, R., J. Niles & E. Levy.  Law and Economics of International Climate Change Policy. Kluwer Academic Publishers, Dorddrecht, Netherlands. 188 pp. 2001.

Kremen, C., J. Niles, M. Dalton, G. Daily, P. Ehrlich, P. Guillery & J. Fay. Economic Incentives of Rain Forest Conservation Across Scales. Science 288: 1828-1832, 2000.

Schwarze, R. & J. Niles. The Long-Term Requirement for CDM Forestry and Economic Liability. Journal of Environment and Development 9(4): 384-404, 2000.

Fleishman, E., G. Wolff, C. Boggs, P. Ehrlich, A. Launer, J. Niles & T. Ricketts.  Conservation in Practice: Overcoming Obstacles to Implementation. Conservation Biology 13(2): 450-452, 1999.