Kalifa Phillip
Fellow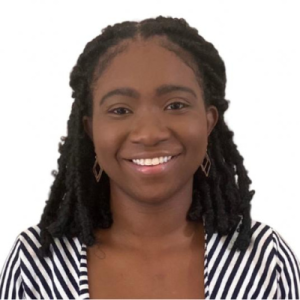 Kalifa Phillip is a Technical Support Associate with the Caribbean Cooperative Measurement, Reporting and Verification Hub (MRV Hub). Kalifa supports the Modelling and Projections Programme in assisting countries with conducting mitigation assessments to complete various UNFCCC reporting requirements. She also supports in coordination and organization of MRV Hub capacity building events, outreach with member countries, and performs other administrative roles.
She is a Grenadian national, who holds a Bachelor of Science in Chemical & Process Engineering, from the University of the West Indies, St. Augustine, Trinidad & Tobago. During her tenure at UWI, she conducted research into various climate change decarbonization technologies, industrial symbiosis, and desalination practices.
As a member of the Caribbean Youth Environment Network (CYEN) Grenada, she is an advocate for climate action throughout the Caribbean. Her advocacy efforts are highlighted through her committed involvement to CYEN's project entitled: Improving National Capacity for Sustained Engagement and Action of Climate Change (SEAC) Project, in Grenada. This project aims to equip young people with the tools and skills necessary to advocate for local climate action.
Previously, Kalifa worked in one of Grenada's leading financial institutions where she acquired knowledge in financial management and customer service. This experience has equipped her to serve as the Rotaract Club of Grenada's Finance Director (2022 – 2023).
One of her life goals is to find innovative ways to contribute to the development of Grenada's Energy & Agricultural sectors, and by extension, the Caribbean, utilizing both academic and non-academic knowledge. Outside of work, she enjoys dancing, cooking, hiking, and exploring new restaurants/cuisines.
View All Publications