The Carbon Institute

The Carbon Institute is a program of the Greenhouse Gas Management Institute, in conjunction with the Tropical Forest Group. Its mission is to lead partnerships that promote innovative and interdisciplinary science, education and cooperation to better measure and manage carbon. To achieve a world where Earth's carbon is sustainably managed, the Carbon Institute works to improve the quality of endogenous higher education and advanced training in the measurement and monitoring of carbon in forests, oceans and the atmosphere. Currently, this program is operating in Cameroon under a grant from the United States Forest Service. Additional academic and government partners are in discussions to significantly expand the scope of work in the first quarter of 2016.
For information on the genesis of the Carbon Institute's terrestrial carbon accounting curricula, please read the 2013 Raising the REDD+ Bar Report (Spanish) on the first academic Advanced Certificate in Terrestrial Carbon Accounting, accredited by the University of California San Diego.
If you would like more information on the Carbon Institute's work to build international academic partnerships in carbon, please contact us.
---
NEWS
John Niles Announces new Carbon Institute at the 21st United Nations Framework Convention on Climate Change in Paris,

December 9, 2015
---
Cameroon Institute Inaugural Terrestrial Carbon Certificate Launches In Cameroon, September 2015
---
This project is part of the International Climate Initiative (IKI). The German Federal Ministry for the Environment, Nature Conservation, Building and Nuclear Safety (BMUB) supports this initiative on the basis of a decision adopted by the German Bundestag.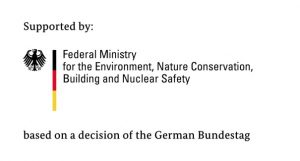 And through generous support from the United States Forest Service.
Save