Standing room only at the Institute's Copenhagen side event
On Saturday evening the Institute had the distinct pleasure to co-host an official COP15 side event with the Business Council for Sustainable Development (BCSE) and the Carbon Disclosure Project (CDP).
The event, "Driving Low Carbon Investment," drew a capacity crowd on the COP's traditionally sleepy "changeover" day – a particularly impressive turnout given that the event happened to coincide with the commencement of the ever-popular Saturday evening NGO party.
The COP audience was treated to high-level presentations and insightful discussion on issues at the convergence of investment and measurement, monitoring, reporting, and verification (MRV), an impeccably topical conversation for the COP negotiations.
The event was kicked off by a short introduction from BCSE executive director Lisa Jacobson, and helmed by Richard Gledhill of PricewaterhouseCoopers.
The Institute's Stelios Pesmajoglou began the evening's presentations with an overview and projections on the role of MRV in the international process, highlighting key issues and challenges with a particular focus on the need for strengthened human capital and associated resources to achieve implementation.
Paul Simpson, CDP's COO, then provided a corporate context, tying in his organization's experience in providing an outlet for voluntary reporting of carbon liabilities.
With the tone set for discussion, the presenters gave way to a diverse panel of respondents.
At the governmental level, Suresh Prabhu, Indian MP and former minister several times over, offered perspective from his rapidly industrializing native India.
From the private sector, Karen Utt of U.S. consultancy Conservis spoke to her experience working on corporate inventories drawing specific attention to the challenges of accounting for Scope 3 emissions.
Looking at the other half of this equation, Institute Advisory Board member and Point Carbon Senior Advisor Einar Telnes, highlighted the importance of aligning training to reporting, citing the need for skill characteristics transcending financial auditing.
Finally, Nick Robins from HSBC took a step back and considered the role of MRV from the view of the investor community, drawing out the well-understood concept that there is a market failure in climate pricing, to further advise that there is a more fundamental and pressing market failure in climate data.
In sum, the event was both a success and a call to action. The evening's engaging dialogue not only clearly outlined the importance of MRV in climate policy, but also served as a sharp reminder of the challenges implementation poses and the importance of integrating robust complementary professional capacity.
(Left to right) Richard Gledhill, PwC; Paul Simpson, CDP; Stelios Pesmajoglou, GHGMI
(Left to right) Einar Telnes, Point Carbon; Karen Utt, Conservis; Suresh Prabhu, Indian MP; Nick Robins, HSBC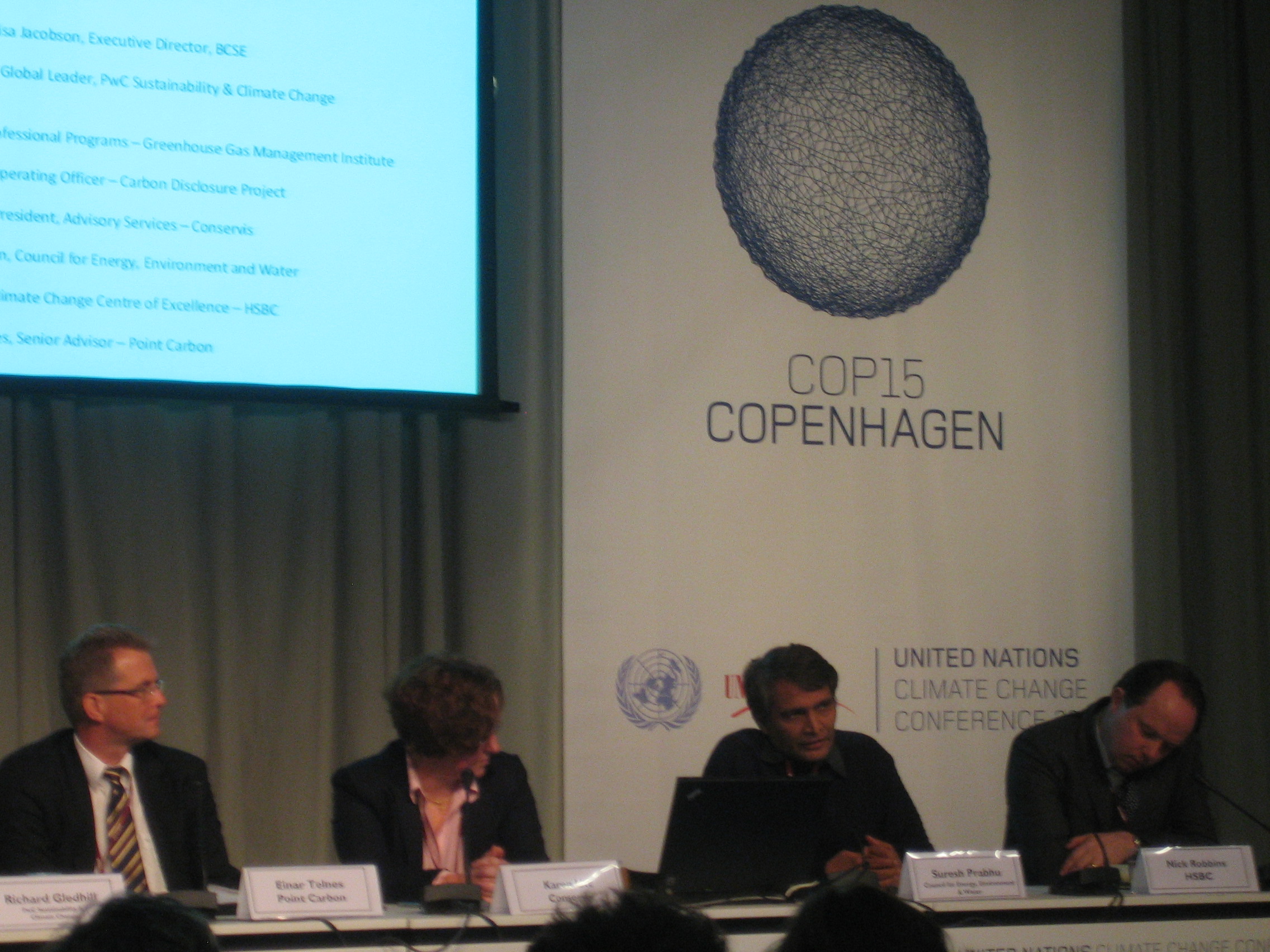 ---