Is your "green power" really just "green washing?"

The short answer to the provocative question posed in the title is, in all but a few rare cases, yes.
The longer answer follows, in which I unpack the mind-bending question central to this controversy, "What is an unbundled renewable energy attribute?"
But first, a quick caveat to prevent potential confusion. The discussion that follows focuses on the voluntary green power market where consumers pay a premium to their utility or some other company to claim they are receiving electricity from renewable generation. The findings that follow are not about government mandates and other policies such as Renewable Portfolio Standards, which can also utilize environmental markets and commodities.[1]
Green power in GHG accounting: It began with offsets
As some of you are aware, I have been researching the voluntary green power market for several years. The impetus for this research was a question that has created problems for years in corporate greenhouse gas (GHG) reporting and the carbon offset market. Should Renewable Energy Certificates, or RECs, sold through voluntary green power markets, be convertible to GHG emission offset credits?
A decade ago, it was widely claimed by voluntary green energy proponents that RECs could be used just like offsets because they represented emission reductions. The logic went that switching to green power reduced your emissions by avoiding GHGs from fossil fuel-fired generation. At the time a number of companies coalesced around this marketing tactic, selling RECs as offset credits in the voluntary market. Even today, though outright claims of equivalence between RECs and offsets are less common, this line of argumentation can still be seen in the marketing language used to claim that participation in the voluntary green power market reduces emissions.[2]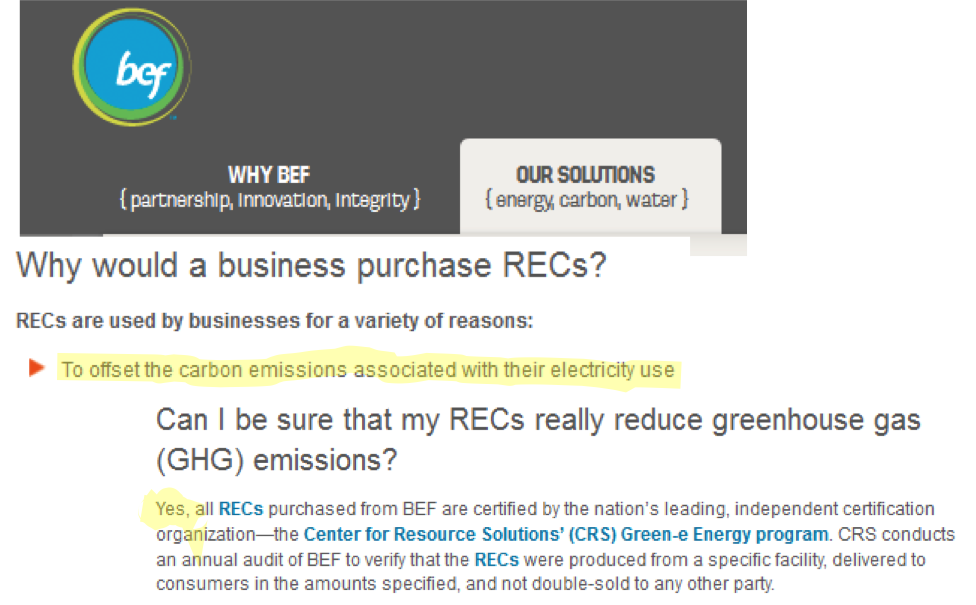 Now, after more than a decade of research and analysis (by this author and others), the consensus on this question has finally pushed past the marketing spin. It is understood by a majority, or at least an influential plurality, that RECs are not the same as emission offset credits. I am not going to re-litigate that debate, as it has been exhaustively documented in the articles listed as references below.[3]And we can also now say it has been empirically proven in two recent studies (Gillenwater et al. 2014, Gillenwater 2013). RECs are not offsets and the voluntary green power market does not reduce emissions from electricity generation.
Green power accounting: A shift to contracts, or just contract shuffling?
In this new decade, the debate has shifted to a more nuanced marketing claim: If, as an electricity consumer, you pay a green power premium, purchase a REC, or avail yourself of some other kind of green power contractual arrangement, you can claim that your electricity still comes from renewable energy and so your indirect emissions from electricity purchases (i.e., Scope 2) are now zero.
In the language of green power marketers, you are buying renewable energy "attributes" even though how you physically receive your electricity has not changed. It comes from the same grid everyone else uses.
So, what the heck is an attribute? Effectively, the claim is that these contractual arrangements for "attributes" allow you to bypass the power grid and virtually plug-in to individual wind farms. The claim is no longer that RECs are offsets. Instead, they are now a tool to virtually divvy up the generation supplying the grid so that a few companies can pick off and claim ownership to the green parts of the supply chain.
What is wrong with encouraging companies to pay a little extra that goes to support green power, such as what the U.S. EPA Green Power Partnership does? Clearly we want to encourage companies to reduce their emissions and transparently disclosure their GHG footprint. And maybe the voluntary green power market does not have an impact now, but if we allow it to grow, in the future it could.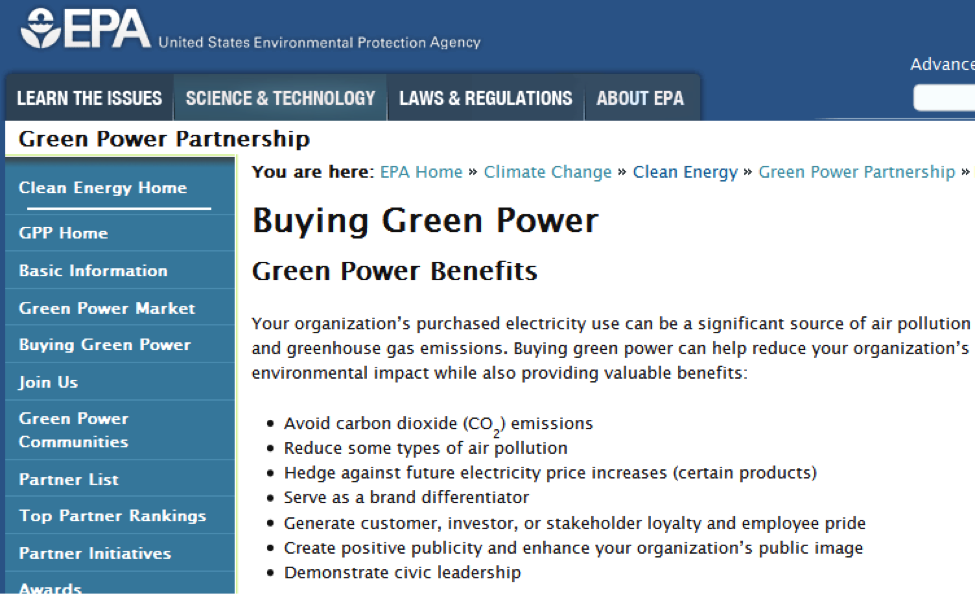 I recently had the opportunity to deeply ponder this question with a small group of sharp-minded colleagues. Our conclusion?
For the purpose of voluntary corporate GHG accounting, the use of contractual approaches for attributing Scope 2 emissions from grid connected electricity purchases is fundamentally flawed and not credible.
(The detailed rationale supporting this conclusion is presented in an open letter. I encourage you to read it in full, including the Q&A where we address submitted counterarguments, and then offer your own thoughts in the comments section.)
We reached this conclusion in parallel with a GHG Protocol workgroup process on Scope 2 reporting, which is heading for a dual reporting compromise: that is, report both a grid average and an adjusted contractual Scope 2 estimate that treats RECs as zero emissions. So what is wrong with endorsing the reporting of Scope 2 emissions estimated using contractual-based green claims? To quote our open letter…
The problem with this approach is that emission factors based on contractual arrangements or REC purchases do not reflect the emissions actually caused by the reporting company's activities. For all other reporting under the GHG Protocol, a physical relationship is presumed between a company's activities and the emissions that result from those activities. This physical relationship is the basis for establishing a "true and fair" account of a company's GHG emissions. A contractual approach to Scope 2 accounting breaks that fundamental relationship. It allows a company to lower its reported Scope 2 emissions without changing how it physically obtains electricity and without altering how electricity is delivered and sold into the grid. There is no evidence of any causal link between the vast majority of REC or green power purchases and the quantity of renewable energy produced.
Physically, an entity cannot choose whether the electricity it uses from the grid comes from a renewable or fossil fuel source. Contractual arrangements do not change this physical reality.
The environmental attribute trade: A problem beyond GHG accounting
The problem here is bigger than just GHG accounting. We need to consider the implications of endorsing contractual approaches for attributional environmental accounting more broadly. Can anyone contractually buy "environmental attributes" for anything and adjust their environmental accounts accordingly? In an open voluntary reporting system this sets up a massive game of contract shuffling, leading to a meaningless reporting system.
I think we are all strong supporters of policies and voluntary initiatives that promote expansion of renewable energy supply to electricity grids. But, I also strongly believe that environmental accounting needs to be rigorous, credible, and based on sound logic. We see no logical argument that justifies contractual approaches to Scope 2 or any other type of environmental accounting where it overrides physical linkages. If you disagree, we invite you to share your justification below or in the comment section of the Scope 2 open letter.
Good intentions
It is important to clearly communicate that voluntary green power markets and those engaged in them are not ill intentioned. Just the opposite. These markets were developed and promoted with the hope that they would cause additional renewable energy investment. And most people engaged in the green power market believe they do or ultimately will.
The problem is that green power markets, as currently structured, cannot achieve this goal. They were created on a fundamentally flawed foundation—that buying a virtual attribute can substitute for physically consuming a specific good or service. Further, the incentives of the participants in green power markets—power companies selling RECs, intermediaries marketing them, organizations certifying them, and companies buying them—are aligned, leaving no one with a strong interest in questioning the claims being made.
With these concerns in mind, we are challenging everyone to question their own assumptions about voluntary green power markets.
---
[1] See Gillenwater 2014, 2008b, and 2008c for discussions on the interactions between compliance and voluntary green power markets.
[2] I want to again be clear that I am only referring to the voluntary green power market. This blog post does not address Renewable Energy Portfolio markets for RECs, which are driven by regulatory compliance demand. See the reference section for articles that discuss how these two markets are related.
[3] This conclusion holds for the vast majority of voluntary green power market activity. This conclusion, though, does not mean that there is not a rare renewable energy project, such as some solar projects, that can make a credible claim of additionality. The problem is that the voluntary green power market has no internal or external mechanism for differentiating from the roughly one percent or less of potentially additional projects and all others that are not (Gillenwater 2013). Also, while the U.S. voluntary market was the focus of this research, there is no reason to expect the conclusions not to hold for voluntary green power markets in other countries.
---
References
Note:  Please email [email protected] to receive a copy of any of the copyrighted journal articles below.
Brander, M. 2014. "The Enron of carbon accounting?" Isonomia Blog Post, March 7th, 2014.
Gillenwater, M. 2014. "Further Reading on Green Power Claims," Greenhouse Gas Management Institute Blog Post, March 12th, 2014.
Gillenwater, M., Lu, X. & Fischlein, M., 2014. "Additionality of wind energy investments in the U.S. voluntary green power market." Renewable Energy, 63, pp.452–457.
Gillenwater, M., 2013. "Probabilistic decision model of wind power investment and influence of green power market." Energy Policy, 63, pp.1111–1125.
Gillenwater, M. 2013. "Redefining RECS: Additionality in the Voluntary Renewable Energy Certificate Market", Doctoral dissertation, Princeton University.
Offset Quality Initiative, 2009. "Maintaining Carbon Market Integrity: Why Renewable Energy Certificates Are Not Offsets", June.
Gillenwater, M., 2008a. "Taking green power into account," Environmental Finance, October.
Gillenwater, M., 2008b. "Redefining RECs (Part 1): Untangling attributes and offsets," Energy Policy, Volume 36, Issue 6, Pages 2109-2119.
Gillenwater, M., 2008c. "Redefining RECs (Part 2): Untangling certificates and emission markets," Energy Policy, Volume 36, Issue 6, June 2008, Pages 2120-2129.
---
12 responses to "Is your "green power" really just "green washing?""