How did we get here? One media campaign that no doubt helped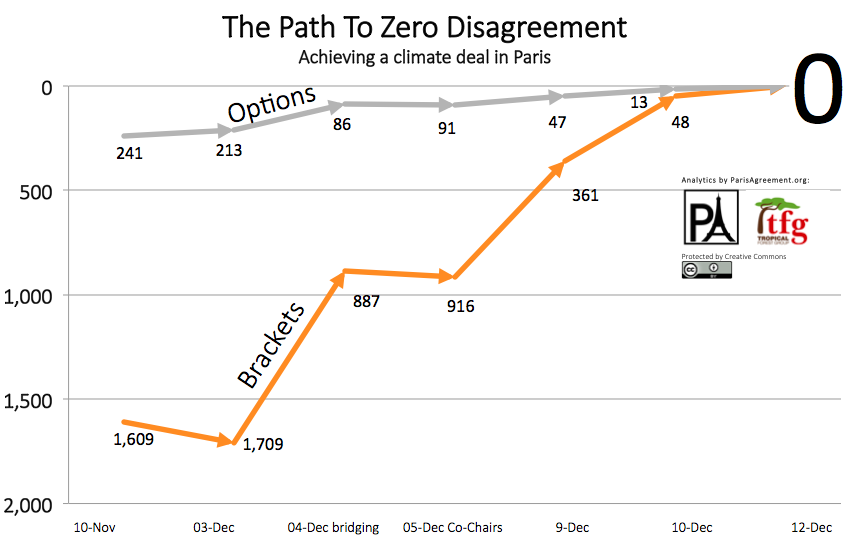 In Paris, the world witnessed the birth of the most potentially consequential international environmental agreement. Media attention of the event played an instrumental role in building momentum towards reaching an agreement between almost 200 nations.
One player on this stage was a campaign spearheaded by GHGMI's Director of the Carbon Institute, John-O Niles, and GHGMI's Research Fellow, Patrick Cage, and supported by a team of fellow delegates and colleagues. Under the banner of the Tropical Forest Group, what started as a "land grab" quickly morphed into not only a media platform, but a source of analysis of the agreement's two-week evolution. The URL ParisAgreement.org overnight became a "go-to" source for understanding and tracking progress in the negotiations for journalists from around the world. The negotiating analytics provided by ParisAgreement.org provided uniquely objective metrics on the momentum and setbacks of an enormously complex international negotiations process. And as you know, we here at GHGMI do love our climate change performance metrics.
Social scientists take note, when you look back at @parisagreement or review the laundry list of reporters who picked-up this beat, you'll likely come up with some thought provoking questions which warrant a closer look:
Does the agreement process benefit from the media's coverage of un-biased technical details during negotiation periods?
Does 3rd party tracking of progress help negotiators?
Does the public's understanding of the UN civic process improve their ability to advocate for what is at stake?
The last decade has now had a chance to see how seemingly minor social media campaigns can create enormous change in comparison – be it in a courtroom, a revolution, or conservation efforts. What Niles, Cage, and the rest of the ParisAgreement.org team were able to pull off was not minor; they tracked the agreement's text from start to finish. This week I've watched the media pieces roll in, and whether the stories are overtly positive or rightfully cautionary, one thing, regardless of your take on the text, is that we have an Agreement.
Time will only tell what intricacies of human behavior allowed us to reach an agreement last week. For now, I'd like to thank my colleagues – you brought a new angle and story to the COP process, for what had historically been an exceedingly technical and wonky topic to cover. Future negotiators take note, civil society will be watching and paying close attention to the degree of progress made inside the negotiating halls.
---