What was it like to be at COP21?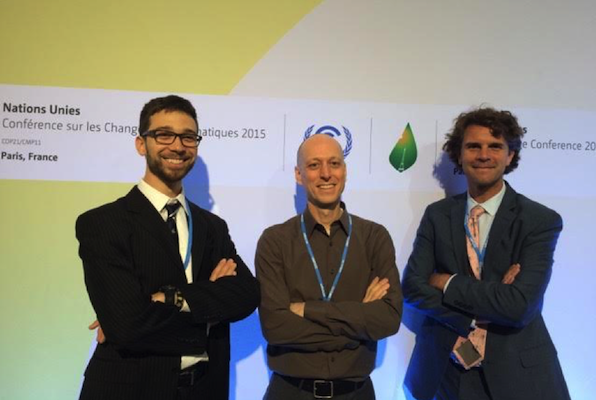 For two fantastic weeks, I and others at GHGMI called the Le Bourget sprawling COP21 venue our home, alongside the hordes of carbon accountants, policy experts, youth activists, negotiators, entrepreneurs, and representatives of international organizations. Twenty thousand visitors at any one time bustled throughout this small city. A thoroughfare flanked by 2D plastic animals bisected an old airplane hanger, adjacent buildings, and monstrous plenary tents, resembling a cosmopolitan boulevard at rush hour, buzzing with people of every national origin dressed in conservative suits or traditional garb. A bakery, a post office, business supplies store, and a red, sparkling Eiffel tower replica put the finishing touches on this miniature city. All of this had come together, and was filled with the world's foremost climate change experts of every stripe, to try and successfully move forward the planet's greatest collective action problem.
Beyond the kid-in-a-candy-shop reactions for a climate change geek at his first Conference of the Parties, veterans were impressed with the outstanding preparations of the French hosts and COP Presidency.
COP21 by the numbers
• 37,878 badges issued, including:
– 19,385 to national delegates
– 8,338 to observers
– 2,825 to media representatives
• Number of negotiation meetings (working groups, plenaries, etc.): 2,500 working meetings (excluding side events).
• Number of side events and exhibits: 202 side events and 203 exhibits.
• Average maximum number of people present on the site at the same time: 13,500 people.
Reference: http://www.cop21.gouv.fr/en/cop21-at-le-bourget-in-figures/

The COP was logistically, as well as diplomatically, amazing, and it seems that the French presidency mastered the link between the two. Even in the busy mornings, getting through security only rarely took longer than five minutes. The coffee was plentiful and top-notch, and printer space was generally available to print the daily Earth Negotiations Bulletin (save for those moments after a new negotiating text was released). Spaces never seemed crammed, only bustling, as one moved between negotiating rooms and side events, engaged with old and new colleagues through the hundreds of exhibits and festive pavilions. Often, one left the Le Bourget site late in the evenings deeply tired, yet energized and expectant for the next day's developments.
Despite somber predictions, the "ghost of Copenhagen" haunted the halls of Paris only insofar as it was used in comparisons to contrast the promise of this year's COP. The mood was positive, and there was the collective desire for an agreement in the air. In sum, according to climate negotiations veterans, there has never been a COP with better preparations or a more optimistic atmosphere (excuse the pun). And there is something to be said for having the exhausting experience run smoothly to keep all focused on the serious work of reaching agreement.
Though this small city exists now only in human memory and digital file formats, its outcomes will hopefully last for decades. It was incredible to be in the plenary hall on Saturday when the gavel fell, signifying the adoption of the historic Paris Agreement. The presiding feeling was one of triumph, with applause that lasted for minutes on end. As someone inside the UNFCCC Secretariat remarked to me this morning, "I believe that as of Saturday night, we live on a completely different planet." This could not be a more thrilling first COP, or a better time to be entering professionally into the world of climate change as a recent college graduate.
The excitement and positivity at the official proceedings were reflected in the numerous GHGMI-related activities at COP21 as well. Every day, we welcomed excited visitors at our exhibit who inquired about GHGMI's new IPCC Guidelines course series and the Carbon Institute for academic partnerships.
The air of excitement continued in the GHGMI side event, "It's Time for Next Generation Standards Collaboration for Climate Neutrality and Resilience," organized by Tom Baumann of GHGMI and the International Organization for Standardization (ISO). Tom discussed cutting-edge innovations for developing new climate change standards in a highly participatory manner, and Ira Feldman spoke of standards for climate change adaptation. If you missed the side event, you can watch a recording here (Tom's segment is introduced at 15:37 and Ira's part begins at 27:42).
The Carbon Institute, GHGMI's initiative for building terrestrial carbon accounting capacity in developing countries through academic partnerships, was appealing to many in the media. A much enlargened base of GHG monitoring and verification expertise is necessary for the Paris Agreement to be successfully implemented, as Director of the Carbon Institute, John Niles, shared with the Guardian. Joe Amougou, a Carbon Institute partner in Cameroon, made comments in Nature that point to the need for added financing to build capacity for greenhouse gas inventories.
We were amazed to see ParisAgreement.org, a project involving GHGMI faculty John Niles and myself, receive extraordinary coverage. Reporters at the Guardian, the Washington Post, the Economist, and others found our analytics to be a useful means of following developments in the negotiations. Every time a new negotiating text emerged, our team rapidly quantified progress and shared our graphs and analysis with observers and reporters. As one friendly member of the media put it, "You've already done analysis on the new text, and I've only just found the link!"
Just as the numbers can help explain the negotiations process, robustly accounting for GHGs provides the basis to measure progress on climate change. A core of the Paris Agreement are the sections on transparency and measurement, reporting and verification (MRV). Particularly as captured in Article 13, a primary function of the Paris Agreement will be increasingly detailed reporting. In Article 6, the Agreement creates a "mechanism to contribute to the mitigation of GHG emissions and support sustainable development," something like a reboot of the Clean Development Mechanism.
The developments in the Paris Agreement bring added importance to organizations like GHGMI that are building capacity in developing countries and training new experts.
While much remains to be elaborated in coming years to operationalize the Paris Agreement, we are glad to say that the future is looking brighter. As we adapt to normal life following this year's extraordinary Conference of the Parties, we have good cause for holiday cheer on this "different planet" post-Paris. Watch our blog in the coming days for detailed analysis of the role that transparency and GHG capacity-building play in the implementation of the Paris Agreement.
---