WEBINAR: Methodology for assessing GHG impacts of agriculture policies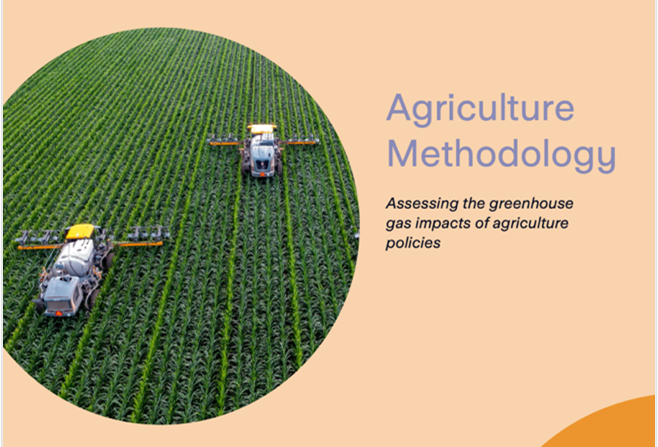 Event details
Date: 16 March 2023
Time: 08:00-09:30 Eastern Standard / 14:00-15:30 Central European / 16:00-17:30 East African / 21:00-22:30 China Standard Time
Register for the launch webinar here.
---
Event description
ICAT and GHGMI will be hosting a webinar to provide an overview of the Initiative for Climate Action Transparency (ICAT) Agriculture Methodology. This guide is part of a series developed by ICAT to help countries assess the impacts of policies and actions in each economic sector.
Agricultural production contributes approximately one quarter of anthropogenic greenhouse gas (GHG) emissions. With the adoption of the Paris Agreement in 2015, governments around the world are increasingly focused on implementing policies and actions that achieve GHG mitigation. Countries need to assess the GHG impacts of policies that affect agricultural activities to report internationally in line with the Paris Agreement, and evaluate policy effectiveness. Domestically, policy evaluation can inform future policy design to mitigate GHGs and provision sustainable sources of food and livelihoods for farming communities.
To support governments and their partners who are planning and implementing agricultural policies, the ICAT has released an updated Agriculture Methodology. GHGMI led the revision of the methodology which guides the assessment of GHG impacts of agricultural policies and actions in the agriculture sector. In particular, the guidance focuses on the largest agricultural emission sources globally including: livestock and manure management, fertilizer application, soil carbon, and rice cultivation.
The guidance included in the methodology is aligned with the 2006 IPCC Guidelines for National GHG Inventories and its 2019 Refinement and is based on the Policy and Action Standard developed by the World Resource Institute.
The webinar is open to all interested persons, including representatives of governments and their partners involved in planning, implementing, and/or assessing greenhouse gas emissions in the context of producing national low-carbon strategies or meeting their commitments to the Paris Agreement.
---
9 responses to "WEBINAR: Methodology for assessing GHG impacts of agriculture policies"