Where Can I Find Carbon Management Research?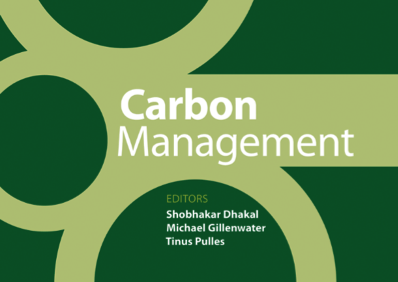 It was almost 5 years ago that we launched, with the former publisher Earthscan, a unique new scholarly journal titled Greenhouse Gas Measurement & Management. Now, for those of you who have observed the climate change field over this period of time, you know that much has changed. Carbon markets have boomed and busted. Policy flavours have gained favour and then fallen, cycling through buzz words like PoAs and NAMAs, with the latest incarnation being INDCs.
Through it all, we have worked to build a centre for sharing scholarly research serving those of us in the global carbon management professional community. I am proud to say the changes in the journal have been for the better. Primary has been a merger of journals. We have combined with the journal Carbon Management and chosen to keep this more concise title. Our publisher has also been acquired by the larger publishing house of Taylor & Francis, which we are proud to be a part of. And lastly, we have matured enough to receive a formal journal impact factor (1.589), which we will be raising now that we have completed the merger and are growing.
For those wanting more details, the key themes in the scope of the journal include:
• The carbon cycle – understanding carbon management throughout the entire carbon cycle (sources, processes and sinks), including technological and engineering measures for carbon sequestration and the role of natural processes.
• Policy planning and implementation – investigating plans and efforts to manage GHG emissions at local, regional, national and international level and different sectors.
• Mitigation analysis – understanding, modelling, identifying, assessing and selecting appropriate policies, scenarios, technologies and business strategies.
• GHG protocols, standards, methodologies, emission inventories, accounting and metrics – designing, applying, and understanding the limitations of different approaches used for measuring, estimating, reporting and verifying GHG emissions and removals (including issues such as boundaries, additionality, baselines, leakage, permanence, and quality management); and using different technologies for various accounting frameworks (e.g., global, national, city, programmatic, product, value chain, entity, facility, and project) and sectors (e.g., fuel combustion, buildings, agriculture, forestry, waste management).
• Uncertainty – understanding and managing uncertainty in GHG management activities.
• Information and communication technologies (ICTs) – developing and using data management tools for GHG emissions, removals and storage; utilization of emerging smart technologies and information networks.
There is a diverse and newly emerging collection of professionals, academics and researchers thinking about these issues, but few forums for scholarly inquiry bring the various stakeholders together to share research and ideas. This journal connects practitioners, researchers and academics at all levels and across fields. And we are proud to have an esteemed editorial board to and have a rigorous double-blind peer review process.
The focus of this journal is on the management of our greenhouse gas (GHG) emissions and removals. In our new merged form, we have expanded to address the work of a more diverse array of disciplines that enhance our understanding of carbon dioxide and other GHG interactions – from biology, ecology, chemistry and engineering to law, policy, economics and sociology. The core aim is to examine the options and mechanisms for mitigating the causes and impacts of climate change, which includes mechanisms for reducing emissions and enhancing the removal of GHGs from the atmosphere. You'll also notice articles devoted to the examination of metrics used to measure performance of options and mechanisms resulting from international treaties, domestic policies, local regulations, environmental markets, technologies, industrial efforts and consumer choices.
The goal of my co-Editors (Shobhakar Dhakal and Tinus Pulles) and I is to catalyse a deeper intellectual debate in an inclusive and scientific manner on the serious work of policy implementation related to the long-term effort of managing our global GHG emissions and impacts. Decisions made in the near future will have profound impacts on the global climate and biosphere. Carbon Management delivers peer-reviewed research findings in an accessible format to inform decisions in the fields of research, education, management and environmental policy.
So, in sum, Carbon Management fills an extended niche that looks beyond the political challenges of the present and instead focuses on the follow-on work required to turn policy agreements, at all levels, into real action. In that sense it is a perfect complement to our stable mate journal at Taylor & Francis, Climate Policy.
We at GHGMI continue to take the long view and focus on building the carbon management professional infrastructure we believe will be needed in a future where the world is thrust forcefully to take deep action to mitigation climate change. We see the intellectual forum provided by this journal as one piece of that professional infrastructure. We hope you agree.
So, on behalf of the full editorial board, I am thrilled to announce the release of the first issue of the new Carbon Management journal. My co-Editor in Chief, Tinus Pulles, has an open access article on "Will the world meet the climate change challenge?" You can also view and download a number of open access articles from past issues.
And, as in the past, Premium Members of the GHG Management Institute receive a full-access electronic subscription to the journal.
And remember, that you may have valuable experience and knowledge to share. I want to personally encourage non-academic experts to take the time to think about their experience and consider sharing it in the form of a scholarly manuscript. Subjecting yourself to rigorous peer review should be step in all of our professional development.
---
2 responses to "Where Can I Find Carbon Management Research?"