Historic!!!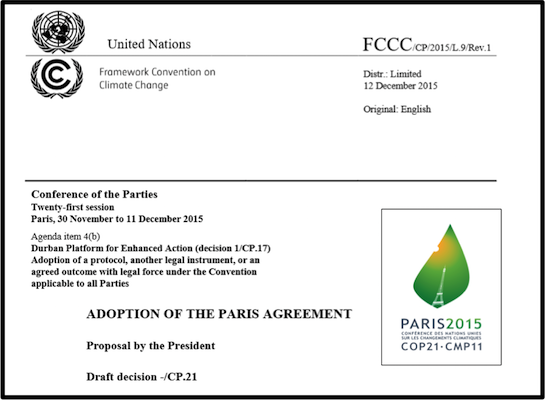 Wow!
We witnessed history being made a couple hours ago. All of us at the GHG Management Institute are sincerely hopeful that our grandchildren will view the Paris Agreement as a turning point. And in the shadow of a tragic example of inhumanity and terrorism, we are inspired by the ability of the community of nations, collectively, to both envision and aim for a habitable planet.
GHGMI blog posts are often quite technical and oftentimes cynical. Don't worry, such thoughtful analysis of this Agreement will come. In posts to come shortly, the GHGMI team that has been in Paris will provide you with reflections on the negotiations and insights on the Paris Agreement. As usual, we will endeavor to avoid repeating the typical media summary points and instead focus on practical and nuanced explanations for you as a carbon management professional. But for now, I invite you to pause, celebrate, and be hopeful with us.
My GHGMI colleagues and I have been working towards this moment for 20 years, starting in the pre-Kyoto Protocol days. With that experience, today we are all optimistic. That this date, 12 December 2015, is an inflection point when, globally, we bent our collective path towards a cooperative and sustainable future.
Strategically, GHGMI is intensively focusing its future work and mission on the enormous capacity building and transparency needs of the Paris Agreement. We have spent the last 8 years building measurement, reporting, and verification (MRV) curriculum, infrastructure, and an expert community. Specifically, in preparation for this turning point, we have invested the last 3 years developing the only pedagogically rigorous and technically comprehensive training and capacity building program on the IPCC Guidelines for GHG reporting. These guidelines are explicitly at the heart of the reporting and verification of nationally determined contributions (NDCs) under the Paris Agreement. This enormous capacity building resource, combined with our new Carbon Institute that will be embedding terrestrial carbon accounting education in academic institutions globally, will be fully launched in the coming weeks.
Lastly, GHGMI proudly gives a special thank you to one of our own. Stelios Pesmajoglou, Director of Professional Programs, was seconded to the UNFCCC secretariat for the last month to support the ADP and then Paris Agreement negotiations. He has worked indefatigably behind the scenes to help make the Paris Agreement possible, as have all of his secretariat colleagues. We look forward to continuing to work with the secretariat and our other partners in the serious and meaningful work of implementing this historic Agreement.
I wish I could thank all of you in person, for it is the tireless work all of us have been collectively trying to achieve for years. I hope as you reflect on this, you will smile and be proud.
Now we celebrate and rest after many long days and nights in Paris.
Fais de beaux rêves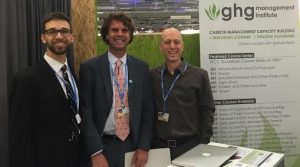 ---