A New Center for Climate Change Monitoring in the Caribbean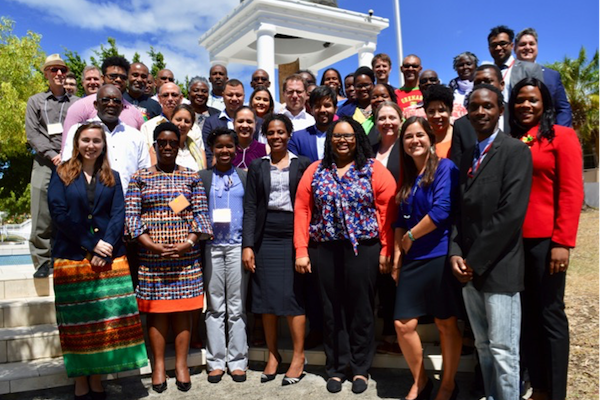 St. George's, Grenada | Ten countries from the English-speaking Caribbean region convened at St. George's University on 5th-6th February 2019 to discuss a new model of cooperation for measuring, reporting and verifying climate action.
The meeting started with a stark call to action, delivered by Damiano Borgogno, UNDP, "You cannot control what you cannot measure." Countries must be able to measure and track emissions to make informed decisions that result in climate change action. He urged for enhancing Paris Agreement transparency processes in the region, noting that the Caribbean can lead others in working towards meeting the world's 1.5°C climate target.
This meeting marked the formal launch of the Caribbean Measurement, Reporting and Verification "MRV" Hub, a unique collaborative technical institution where countries in the region can share expertise to foster regional excellence and generate stronger policy-relevant carbon accounting. The MRV Hub provides a mechanism through which country experts will function as a true learning, mentoring and resource-sharing technical cooperative.
Carlos Fuller, International and Regional Liaison Officer of the Caribbean Community Climate Change Centre (CCCCC) remarked, "This is a great initiative that will create the critical mass of regional expertise to monitor and track the Caribbean's contribution in addressing climate change."
During its initial phase, the Hub is supported by numerous international and regional organizations including the Greenhouse Gas Management Institute, the United Nations Framework Convention on Climate Change, the Windward Islands Research and Education Foundation, St. George's University, the United Nations Development Program, the UN Environment, and with generous support from the International Climate Initiative (IKI) of the Federal Ministry for the Environment, Nature Conservation and Nuclear Safety.
Hugh Sealy, from the MRV Hub encouraged countries, "With a cooperative model, two plus two will equal ten in our region."
"Our goal is to improve domestic policy making, create efficiencies in climate action and become instrumental for the successful implementation of climate plans, the cornerstone of the Paris Agreement," said Mr. Borgogno.
Learn more about this project.
---
Article also appears in the IISD SDG Knowledge Hub & UNFCCC News Room.
---