Webinar: GWU Online Graduate Certificate in GHG Management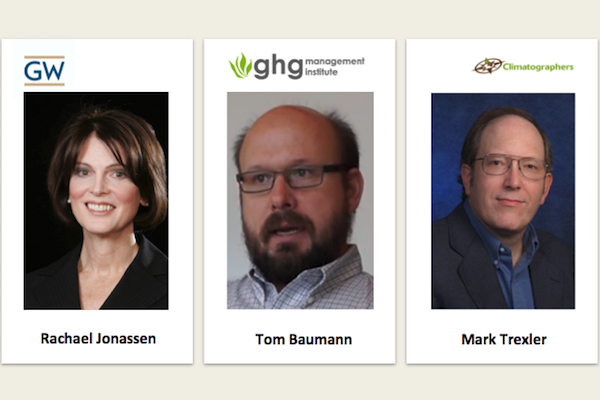 The Greenhouse Gas Management Institute (GHGMI) develops and delivers curriculum for greenhouse gas accounting and has partnered with George Washington University's Engineering School to offer an accredited Graduate Certificate in GHG Management.
Want to learn more about the program, but weren't able to attend our webinar on November 26th? Click the link below to watch a recording.
Click here to watch the webinar
This short 30-minute webinar featured leading climate experts Rachael Jonassen (Professor, George Washington University), Tom Baumann (Co-founder, GHGMI), and Mark Trexler (Director, Climatographers) who provided an overview of the certificate program and the courses offered this approaching Spring Semester.
The graduate certificate provides students and working professionals with the fundamental skills necessary to measure, track, and report climate impact, and conceptualize solutions to climate change. These foundational skills help to build a professional class capable of addressing the climate crisis. Please share this opportunity with potential applicants in your network and thank you in advance for helping to circulate this opportunity.
---
Dr. Rachael Jonassen (George Washington University) advised the Department of Energy as it established the U.S. federal greenhouse gas reporting program and led development of greenhouse gas inventories for multiple federal agencies. Dr. Jonassen also co-authored protocols for greenhouse gas accounting and assessment of mitigation goals.
Tom Baumann (GHGMI) is the co-founder and Director of Knowledge Management at GHGMI. Tom is continually pushing the envelope for exploring how digital technologies can better serve GHG MRV.  To this end he is also the co-founder of Collaborase (an application that facilitates consensus-based mass collaboration, e.g. GHG MRV guidance).
Mark Trexler (Director, Climatographers) has advised clients around the world on climate change risk and risk management. He is widely published on business risk management topics surrounding climate change, including in the design and deployment of carbon markets. Mark also served as a lead author for the Intergovernmental Panel on Climate Change.
---
One response to "Webinar: GWU Online Graduate Certificate in GHG Management"