2021 Outstanding Faculty Achievement Award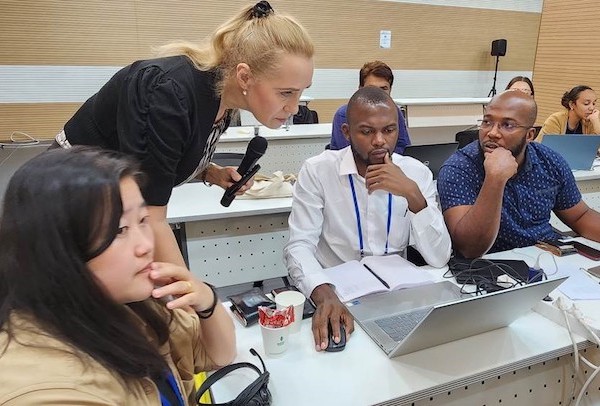 GHGMI recognizes the value of instructional excellence that each of our faculty members brings to our courses and workshops. In an effort to celebrate their commitment to instructional excellence, faculty are nominated by alumni for the Outstanding Faculty Achievement Award each year.
This year, we are proud to present Dr. Olia Glade, the instructor for our 500-level IPCC Guidelines courses and Director of MRV Systems, with the inaugural Outstanding Faculty Achievement Award. Many alumni highlighted Olia's technical knowledge, punctual engagement, and breadth of expertise in applying the IPCC Guidelines. This commitment to learner instruction has resulted in 1,000+ alumni demonstrating proficiency in the 500-level curriculum content. There is no doubt that this is in part due to Olia's enthusiasm for instruction and expertise in the IPCC Guidelines.
It is a great pleasure and a very nice surprise to receive this award. Teaching and knowledge sharing is my passion; there is no better award than to see students mature and succeed in their chosen paths in life.

Teaching the IPCC courses is very special to me. These days, it's hard to find a person who hasn't heard about climate change and the associated risks. However, recognizing the problem, figuring out how to size it up, and then work out the pathways to mitigate it are very different stories. Many countries are making good efforts to set themselves on the path of reaching their emission reduction targets. However, after ratification of the Paris Agreement, many countries have found themselves in a position of needing to perform complex technical and analytical tasks for investigating, calculating, and reporting their national GHG emissions. Without an agreed-upon and well-researched methodological guidance, these tasks would not be achievable. The 2006 IPCC Guidelines provide that guidance.

That is why our courses on IPCC methodologies are so popular, and why I feel very happy and privileged to contribute to building an international community of climate change experts who will undoubtedly make a huge difference in the efforts for climate change mitigation in their countries. When I teach the courses, I learn a lot too. Many learners are asking interesting and insightful questions that make me research the subject deeper and broaden my horizon. It always feels like we are together on that journey of learning.

I'd like to say my big thanks to all alumni who nominated me and, of course to GHGMI's Education Directorate for their advice and ongoing support anywhere, anytime. Thank you! – Dr. Olia Glade
We invite you to help us celebrate Olia and all of our faculty that support the Institute's pedagogical reputation. Congratulations to GHGMI faculty, for providing the experience and instruction necessary for our learners to become experts in their field, start a new career, learn something new, achieve their carbon management goals, and above all, increase the global reserve of GHG management experts.
---
Has a GHGMI faculty member exceeded your expectations? Alumni can nominate a GHGMI faculty for the Outstanding Faculty Achievement Award during the Annual Alumni Survey distribution period: February – March 2023.
---
2 responses to "2021 Outstanding Faculty Achievement Award"